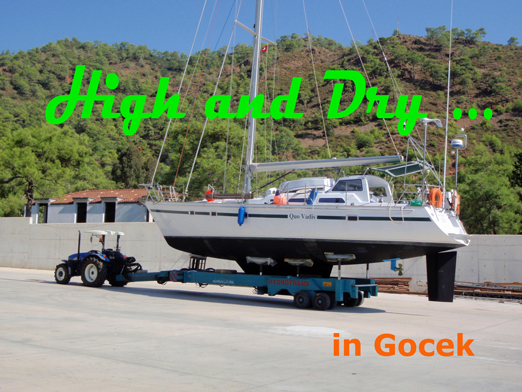 After spending September travelling not very far around the south-west corner of Turkey, we returned to Gocek for the winter lay-up…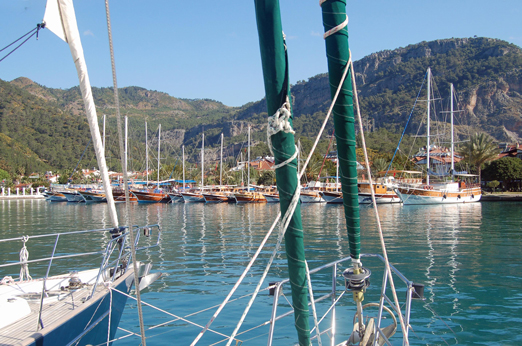 It had been a warm and largely windless month at the end of summer, a good time to be cruising in this part of Turkey, and we didn't need to go far to keep interested in what we were seeing.
It was time to lay up for winter,  good things come to an end unfortunately, we were to return to New Zealand in the first week of October for the antipodean summer, work, and other things
We had a space prebooked for 6 months on the hardstand at Village marine in Gocek. The day before lift-out we stayed in the marina, cleaning, removing sails, engine maintenance and completing all those tasks where being in the seawater is still needed.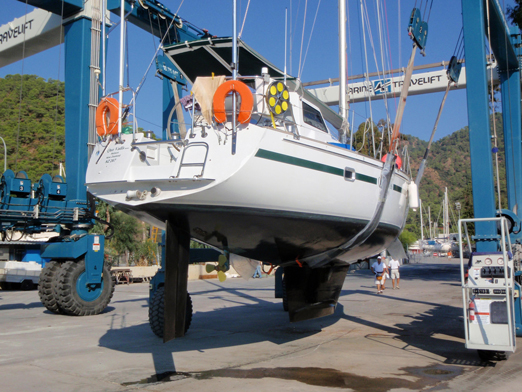 Lift-out was on 29 September, the travel-lift experience nothing new to us now, professionally done and easily managed.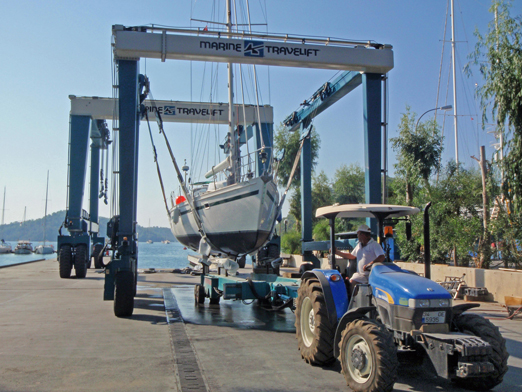 The next bit was new to us however, as a tractor drawn low-loading trailer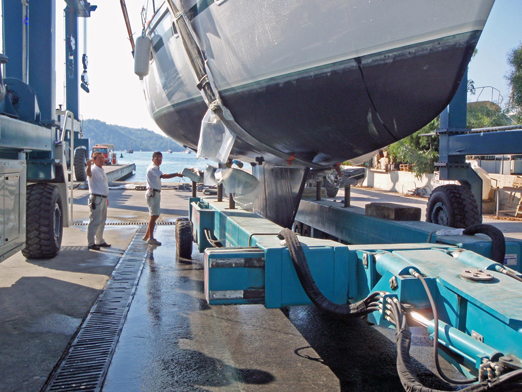 with complex hydraulics to adjust its every aspect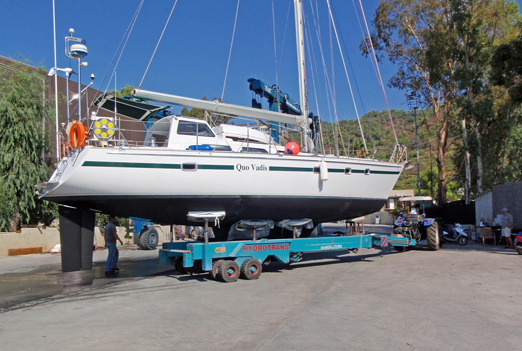 fronted up, parked beneath our hull and lifted QV aboard…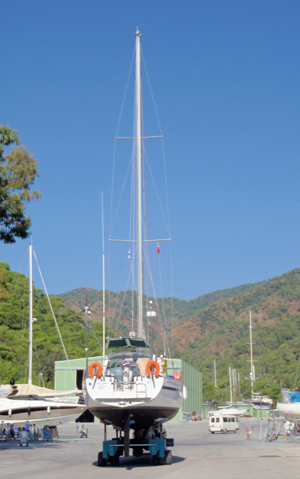 …and in the way of the best of a 'snatch and grab' heist, she was taken at high speed, disappearing into the distance to the top end of the yard, while we were left to walk, breathless, behind!
(to be truthful, we were offered a lift in a golf cart but declined, never expecting the trek to be harduous)
Her place was with what they regard as the 'long-termers', at the back of the yard and using the trailer to park the boats is just the most efficient way to pack them in,  but it is a very secure and sheltered position, we are happy with that.
Over the few days since we have been cleaning, polishing, repairing and fabricating…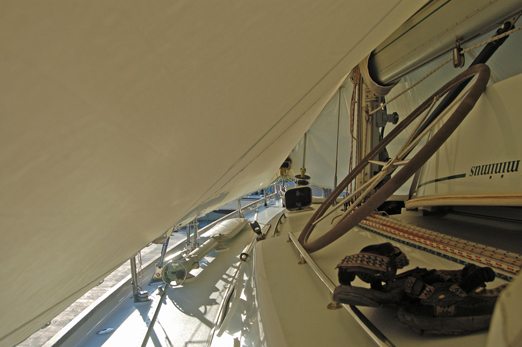 Although we had no major problem leaving Quo Vadis out in the weather in Finike last year, a cover seemed like it must be a good protection, we arranged that to be made locally.  It was done, professionally,  with the result that although difficult to fit,  because of its tautness,  seems to us durable in winter storms,  but time and their  5 year guarantee will tell !
We leave for New Zealand more relaxed about leaving QV than before, although where she is now, she is further from the sea and at much greater altitude than she has  been in the past 16 years, ever since she was a tree growing in the Kauri forests of Northland, (NZ) .